Imagine a career that becomes a community, where wellness is a way of life and doing what you love leads naturally to success. For Young Living members, a dream job offering security and independence can become a reality. With dedicated support from Young Living, The Scentsible Tribe and an industry-leading compensation plan, you can take control of your future by building a thriving business. You'll have the entire Young Living family by your side to encourage you, every step of the way.
The Lemon Droppers: You Belong from Lindsay Teague Moreno on Vimeo.
The Lemon Droppers was founded in 2013 by Lindsay Moreno, who is now ranked a Royal Crown Diamond, the highest rank in Young Living. There are now over 380,000 members in the Lemon Dropper Team.
The Scentsible Tribe, which Lee Yen Anderson founded in 2014, is a part of the larger Lemon Dropper Team and has 24,,000 members. We are a Diamond Team in Young Living and we are committed to educating and training you so that you can reach your goals, whatever that may be.
WHY YOUNG LIVING?
Have you ever wanted to truly own your time—and your life? What if going to work every day was exciting and enjoyable, and you no longer had to wonder how you were going to pay the bills? Young Living's generous compensation plan gives you the power to take control of your future and build a business that will change your life forever.
Being a Young Living member goes beyond simply building a thriving business, however. You will also enjoy extensive networking opportunities, exclusive hands-on experiences, and a strong sense of community. Some of the unique benefits of Young Living membership include:
Generous Compensation: Young Living offers an industry-leading compensation plan with generous commissions and bonuses. This is the

2018 Income Disclosure Statement

with real numbers from real leaders in the field.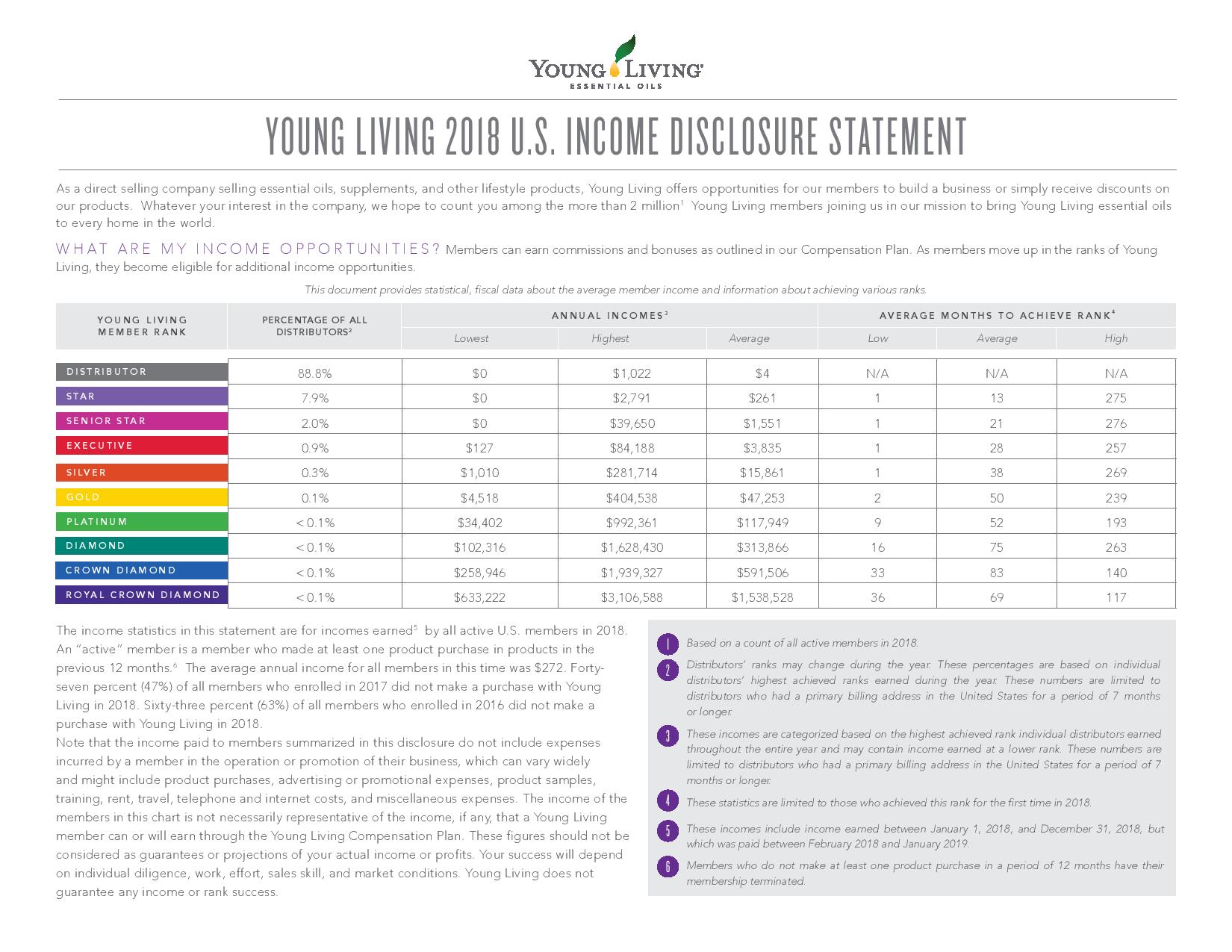 Wholesale Pricing: Save 24 percent off retail pricing on

Young Living products

, and save even more money with exclusive specials and promotions every month.
Essential Rewards: As a member, you are eligible to enroll in the Essential Rewards program and earn as much as 25% back on each order in points that you can redeem for free products.
Exclusive Experiences: Participate in unique events such as the Global Leadership Cruise and our annual International Grand Convention, and experience our Seed to Seal® process firsthand at

farm

harvests and plantings.
Community: Enjoy a close-knit community of support. In addition to

The Scentsible Tribe

, the entire Young Living family is ready to assist and encourage you in your journey.
Education: Young Living and The Scentsible Tribe provides ongoing health education opportunities through conventions, events, and blogs to keep you informed and assist you in your wellness progress.
Recognition: As you expand your organization and advance toward the prestigious rank of Royal Crown Diamond, you will enjoy special recognition for your accomplishments and leadership!
Align your Passion and your Career: Living the Young Living Lifestyle leads to so many wonderful things including wellness for your family and the people you come into contact with. Finding your purpose in sharing Young Living will ignite you in your personal growth and leadership skills.  And the abundance that you receive as the result of your growth allows you to really live your dream and start to make a bigger impact.
"Money in the hands of good people do good things." – Mary Young, CEO of Young Living Essential Oils