September is finally here, can you believe it? In the year that never ends, the arrival of fall is actually even more special than normal. Plenty to look forward to, summer still lingering, and the end of the year is in sight. I know I'm not the only one excited to break out the comfy sweaters and a good book.
Plus, Free Shipping starts this month.  Let's take a look at the promos and what Young Living has in store for us because this is really good! 
Here is the full breakdown of the US September promos:
100 PV
Free Shipping 
190 PV 
Copaiba 15-ml
Purification 5-ml*  
Free Shipping 
250 PV 
Mini YL Cooler
Copaiba 15-ml
Purification 5-ml*  
Free Shipping 
300 PV 
M-Grain 15-ml
Thieves Mints 
Mini YL Cooler
Copaiba 15-ml
Purification 5-ml*  
Free Shipping  
*Remember, in order to get the Essential Rewards Exclusive Purification 5-ml, you have to be enrolled in Essential Rewards (ER) and have an order that meets the PV requirements for that item. The extra bonus of meeting these PV amounts with your ER order is that you get even more ER points to spend later!
FREE SHIPPING (100 PV Tier)
Did someone say free? Yes, FREE! Getting your order, Shop or Essential Rewards, to 100 PV or higher qualifies you to get that order shipped on YL's dime. No cost. Zip. Zero. Nada. Want it faster than the free shipping timeline? No problem, you can still choose other shipping options, but that free shipping will be right there waiting for you in case you want it.
Purification 5-ml (190 PV Tier ER Exclusive)
As we start that transition from summer to fall, we're going to find plenty of times where some odor fighting, air cleansing, overall purifying scents will come in handy, big time. Doing your summer laundry in preparation to store it until it's warm again? Make sure to add a few drops of Purification to a wool dryer ball for freshness while you pack them away. DIY Carpet Deodorizers, adding it to your soapy mop buckets, your vacuum bags, to a cotton ball on your vent, and anywhere you might need the power of Purification, this is a must have as we make this transition. 
Copaiba 15-ml (190 PV Tier)
I LOVE that we get a 15-ml bottle of Copaiba. It is so good for providing a relaxing, calming environment in your home or while you take a comforting bath. Post workout, add this with your PanAway or Cool Azul and a carrier oil to help tired, aching muscles. It's great as part of your skin care routine, and in its Vitality form (which is the same oil), it's great for supporting a healthy immune system! Copaiba is great with so many oils but it's also really good on its own. 
Mini YL Cooler (250 PV Tier)
Travel with your snacks and picnics in style. This Mini YL Cooler is heather gray, paint-splattered, and lets you transport your tasty goods without having a lot of waste using temporary containers. Remember, starting this month and moving forward, if these go out of stock during September, anyone who doesn't get one will receive 30 ER points instead! 
Thieves Mints (300 PV Tier)
Need to freshen your breath after your Mini YL Cooler inspired picnic? No need to worry, take these Thieves Mints with you! The fresh infusion of the Thieves blend and Peppermint oil helps give you crisp, minty breath without sugar, preservatives, dyes, or anything else you'll find in store bought mints. You can also use them to curb those sweet tooth cravings, which might be their most helpful use.  
M-Grain 15-ml (300 PV Tier)
Stress. We all have plenty of it right now. Thankfully we have some natural, healthy options to choose from to help us destress, reinvigorate, and be ready to take on the rest of our days, weeks, months, and this year that feels like 20 years. M-Grain on the temples, across the top of your brow, and behind your ears can really help ease the worries and tension of the day. Add a couple drops to your Epsom salt, let them soak in, and then take a relaxing and refreshing bath after a long, stressful day. If you haven't enjoyed the benefits of this blend, you're going to be happy when this arrives at your house!  
See what I mean? A variety of oils and products to help us with the transition between summer and fall and staying on top of all the craziness this world has for us. Young Living has us covered. While you're filling up your Shop and ER orders to get these promos, there are a few other products I would recommend you have on hand for this time: Thieves Vitality, Inner Defense, Thieves Chest Rub, Stress Away Bath Bombs (because yes), and Lavender. If you need help figuring out what you want to add your ER as fall is so close, let me know! I can help.
If you want to know all about the new Free Shipping option, let's chat. Here's generally how it works: if your Shop or Essential Rewards order reaches 100 PV, you qualify for free shipping. It's an option for when you want to save a little money and don't have to worry about a little bit of extra time to get to you. It's good for up to 70lbs (which is a lot), so definitely a viable choice! Plus, with shipping prices rising everywhere, there's a tiered flat rate system for the other shipping options. Shoot me a text or email and we'll talk all about it!
Speaking of one way you could use that free shipping, for the entire month of September, Charcoal Bar Soap is 10% off!! If you keep up with the What's New Wednesday items that come back in stock, you could add a bar or two to one of those orders and maybe use that free shipping option! Here's what Young Living said about the promo: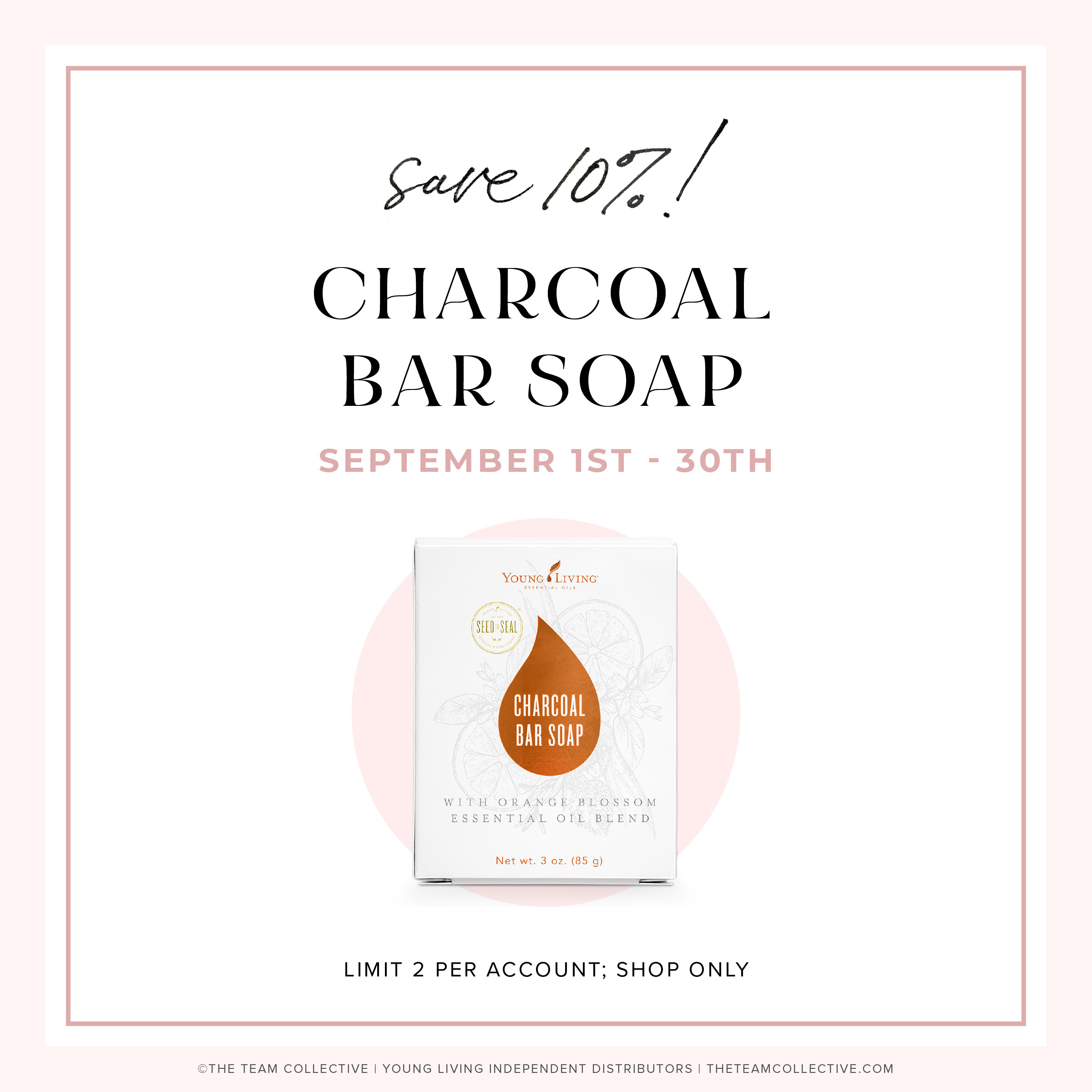 "Young Living's Charcoal Bar Soap is what skin care dreams are made of. Cleansing and hydrating, this double-duty face and body soap makes lathering up a delight. Activated charcoal does the dirty work of deep-cleaning pores, while aloe vera and essential oils leave skin feeling soft and smooth.
The best part? Starting September 1, you and your teams can snag this fresh fave for 10 percent off!* This deal is available all month long or while supplies last.
*Limit 2 per account; Shop only"
I really hope you have an amazing September and enjoy this transition into fall. As always, if you have any questions, especially about free shipping, let me know! I'm here to help. Let's get the end of this year rolling and make this a great month!