Happy October! Can you believe we're almost to the holiday season? Where did this year go? Well, one thing's for sure: we need to enjoy autumn while we can. Thankfully, the October promos from Young Living are SO good that they will guarantee we enjoy it all. Let's take a look at those.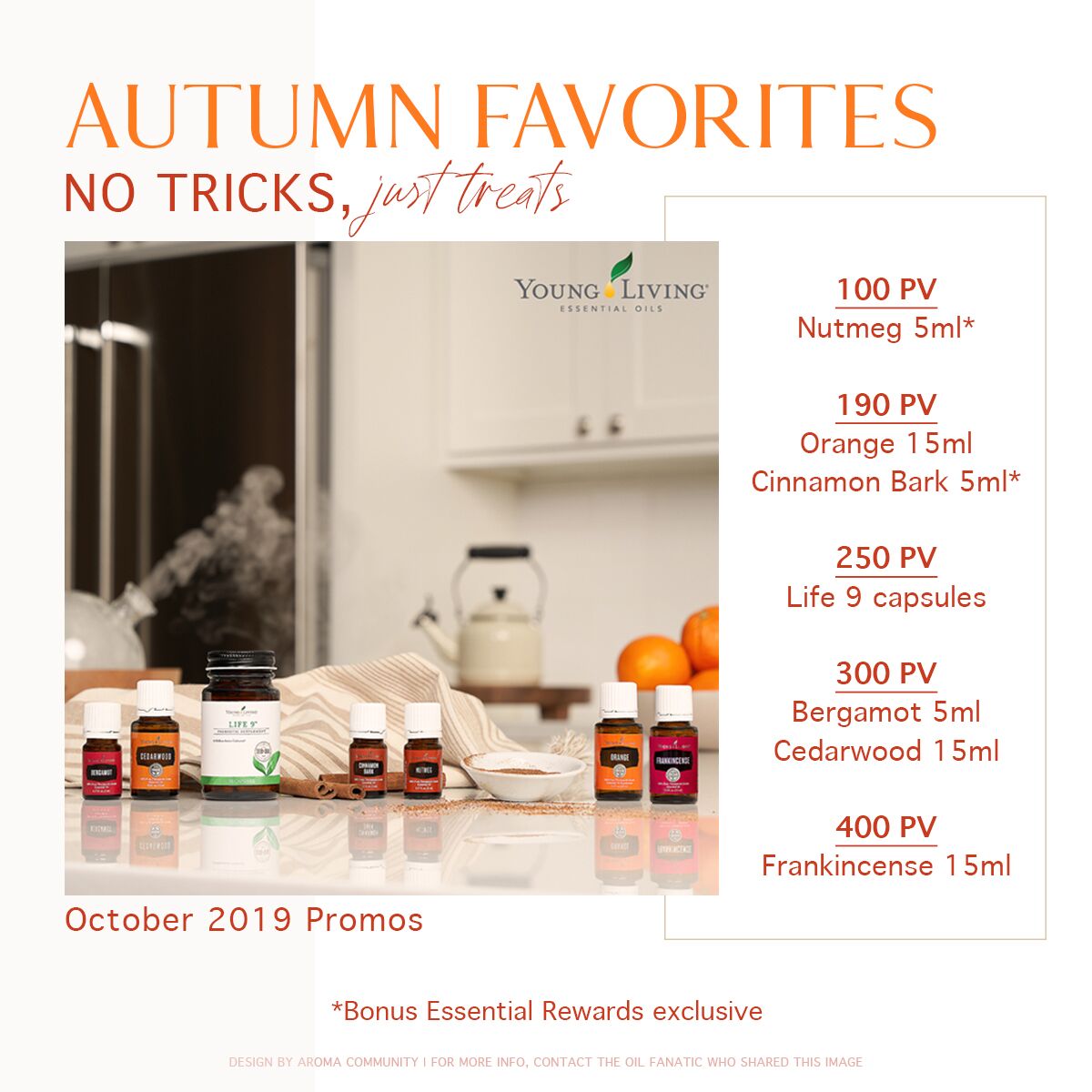 Here is the full breakdown of the US October promos:
100 PV
Nutmeg 5-ml*
190 PV
Orange 15-ml
Cinnamon Bark 5-ml*
Nutmeg 5-ml*
250 PV
Life 9 capsules
Orange 15-ml
Cinnamon Bark 5-ml*
Nutmeg 5-ml*
300 PV
Bergamot 5-ml
Cedarwood 15-ml
Life 9 capsules
Orange 15-ml
Cinnamon Bark 5-ml*
Nutmeg 5-ml*
400 PV
Frankincense 15-ml
Bergamot 5-ml
Cedarwood 15-ml
Life 9 capsules
Orange 15-ml
Cinnamon Bark 5-ml
Nutmeg 5-ml
*Remember, in order to get the Essential Rewards Exclusive Nutmeg 5-ml and the Essential Rewards Exclusive Cinnamon Bark 5-ml, you have to be enrolled in Essential Rewards (ER) and have an order that meets the PV requirements for those items. The extra bonus of meeting these PV amounts with your ER order is that you get even more ER points to spend later!
Let's try something a little different this time and start with the 400 PV Promo, you know, since it's Frank and all. 😉
Frankincense 15-ml: This is the mack daddy of essential oils. The bees knees. The one you always want and this month it's FREE. You can't beat that. Plus, Frankincense has SO many uses. Your skin will thank you for it, those feelings of anxiousness will scatter, and if you know about the Vitality uses of Frankincense, it's great for the immune system! Treat yourself to this. It's beyond worth it.
Bergamot 5-ml: Know what else you need in your life? Bergamot. This is so, so good. Feeling stressed? Put this in the diffuser. Need to be in a better mood? Bergamot is your oil. It pairs well with so many other oils too that it's a great addition to many diffuser blends. I'd love to hear your favorite oils to blend it with!
Cedarwood 15-ml: Zzzzzzzzz. Oh, sorry! Just used a little Cedarwood. This is a must have for your bedtime roller blends or diffuser blends. Cedarwood stimulates the pineal gland which is what produces melatonin, so you know it's going to help you get that good sleep. But it's also great for your skin too! If you haven't tried this yet, you need to.
Life 9: All of our digestive systems need a little help. Thankfully, there's a YL probiotic for that. 😉 Life 9 contains 9 active strains of GOOD bacteria in a delayed-release capsule with 17 billion active cultures. This is going to be especially useful as our diets change and the holidays try to sabotage us with all the sugary sweets. I love that we're getting this for free and I can't wait for you to try it if you don't already use it.
Orange 15-ml: Dipping into those fall aromas, Orange is going to be a constant part of your autumn diffuser blends. Bonus: it's really good for calming moods and taming tantrums. In the diffuser, in a roller blend. You're gonna run out of this by the end of the month, so may as well add a bottle to your monthly orders as well.
Cinnamon Bark 5-ml: Ditch those fall scented candles and use Cinnamon Bark instead. Combine it with Orange and Nutmeg. Add a little Black Spruce. Make it smell like a fairytale fall day in your home all season long. On top of that, use it in your wellness blends and get all of the incredible benefits Cinnamon Bark has to offer, like immune boosting, digestive support, and so much more. Have you looked up all the benefits of Cinnamon Bark in your favorite essential oil education resource? I highly suggest you do.
Nutmeg 5-ml: You're going to immediately think of all the diffuser recipes you can add Nutmeg to, and you will absolutely love using it that way. But two uses you might not be as familiar with for Nutmeg are how great it is for back discomfort and how helpful it can be for a good night's sleep. Put a few drops in your bedtime roller and make a balm or roller for back discomfort and put Nutmeg all up in that. You won't be disappointed.
These are fall staples and fan favorites, so no matter what mood you're in or how you're feeling, there's something there that will get you through this month feeling just fine. If you need some more ways to use these oils, let me know!
Speaking of all things fall, here are a few diffuser blends to help get your home smelling wonderful.
Hot Cider
4 drops Orange
2 drops Nutmeg
2 drops Cinnamon Bark
1 drop Clove
Pumpkin Pie
3 drops Cardamom
3 drops Nutmeg
2 drops Cinnamon Bark
1 drop Ginger
Fall Leaves
4 drops Orange
2 drops Patchouli
1 drop Vetiver
1 drop Ginger
Those diffuser blends will have your home smelling and feeling nice and cozy. If you want more recipes or different options for oils you might not have? Let me know! I would love to help you explore all the fun and unique ways to use these oils. And as always, if you have any questions for me about anything, just contact me and I will do everything I can to help! I hope that you are as excited about these promos as I am and I hope you have a great October!