Happy November! Can you believe we are almost done with the year? Daylight Savings is over, Halloween has come and gone. It's almost Thanksgiving! For as slow as this year has seemed to go by, it's also gone by super fast.
No matter what, this month is all about being thankful and having gratitude for all of the good things in our lives. We should always be that way, of course, but I love that we can focus on it more than usual. The promos this month include the Gratitude essential oil blend plus some other fantastic things we can be thankful for – I especially love the partnership with the Young Living Foundation and their item in the promos, so make sure to read about that below because it's amazing all the things they're doing! Let's take a look, and then we'll talk about the Holiday Launch that was rescheduled for this month!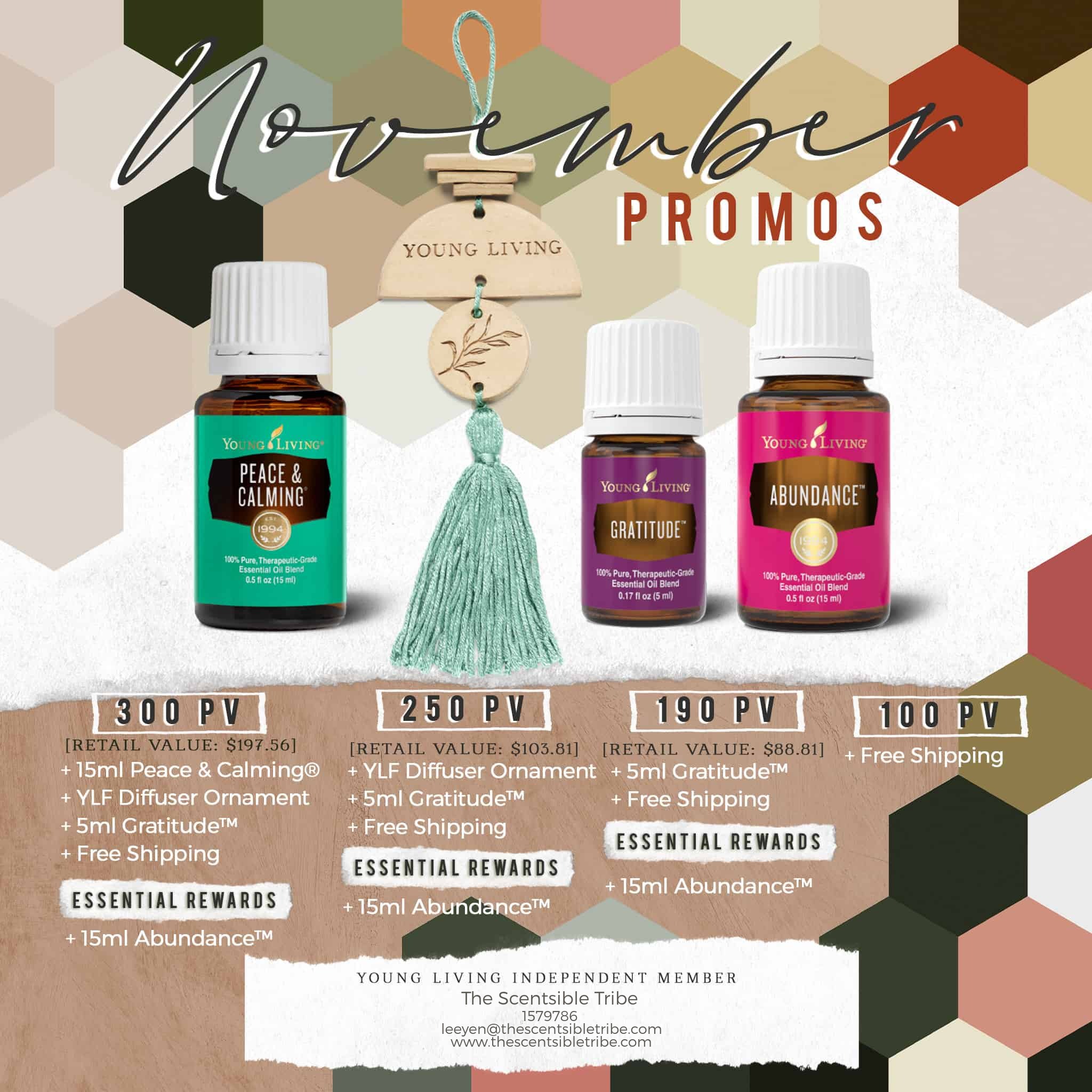 Here is the full breakdown of the US November promos:
100 PV
Free Shipping
190 PV
Gratitude 5-ml
Abundance 15-ml*
Free Shipping
250 PV
YL Foundation Diffuser Ornament
Gratitude 5-ml
Abundance 15-ml*
Free Shipping
300 PV
Peace & Calming 15-ml
YL Foundation Diffuser Ornament
Gratitude 5-ml
Abundance 15-ml*
Free Shipping
*Remember, in order to get the Essential Rewards Exclusive Abundance 15-ml, you have to be enrolled in Essential Rewards (ER) and have an order that meets the PV requirements for that item. The extra bonus of meeting all these PV amounts with your ER order is that you get even more ER points to spend later!
**Gratitude essential oil blend is considered a dangerous good. Shipping restrictions apply.
Do you see what I see? A 15-ml Peace & Calming in the promos? Yeah, let's start there!
Peace & Calming 15-ml (300 PV tier)
Tumultuous is just one of the many words that can accurately describe 2020. For everyone. It's been a wild ride and the holidays are about to add onto a bit of the craziness, because everything will be different this season. But it's going to be okay. Take a deep breath. Put some of this Peace & Calming in the diffuser, and no matter what your holiday season is going to look like, you'll be calm and at peace. Intensify it with some Frankincense or add another citrus oil for a brighter, fresher scent. No matter what, you'll be thankful for this 15-ml (yes, the BIG one) in the promos this month!
Gather with grace. Turn holiday hassles into magical memories while diffusing the light and bright aroma of Peace & Calming until the end of the year.

Give the gift of glow. Whether you're bringing a host gift or sending a care package, include a bottle of this glow-getting blend that's ideal for every skin hydrating routine.

NOTE: only use Peace & Calming in your nighttime skincare routine.
YL Foundation Diffuser Ornament (250 PV tier)
I LOVE that this year's diffuser ornament is wooden! Easier to use, not as fragile, and still beautiful all while supporting an amazing cause. Check out what Young Living has to say about it:
"When you qualify for the 250 PV tier, you'll receive a handcrafted Young Living Foundation ornament, stenciled with a beautiful botanical and handmade by women in Uganda who are working to overcome economic hardships and provide a better life for their children. For these ornaments, a total of 208,400 fair pay hours were provided for 752 female artisans. This will directly benefit 3,008 of the artisans' children and family members they care for! Your purchase is supporting these women in putting food on the table and keeping their children safe and in school."
Give children a chance. With this diffuser ornament, stenciled with a beautiful botanical, you are helping vulnerable women in Uganda gain stable employment to provide the opportunity to send their kids to school.

Diffuse as you deck the halls. Add a drop or two of your favorite festive fragrance and place your ornament in a tree, in your car, or anywhere you want a touch of essential oil magic.

Check out this link for more information on the artisans who made these: https://younglivingfoundation.org/blog/impacting-hundreds-of-women-artisans-in-uganda
*The Young Living Foundation Diffuser Ornament is available only while supplies last. If the ornament goes out of stock, we will reward 15 ER points instead.
Gratitude 5-ml (190 PV tier)
This is the season of thankfulness, of gratitude. So this oil makes a lot of sense. Uplifting and grounding, when you use Gratitude you'll be able to see all the things in life that you should truly be thankful for while also inspiring you to share that gratitude with others. When you need to rebalance and refocus during this season, grab this blend.
Find meaning during merry making. Grab all your closest friends and family, diffuse this harvest-scented blend, and have everyone share three things they're grateful for.

Wake up with wonder. When the alarm blares, perfume the air with this purposeful oil blend while you meditate, pray, or journal so you always wake up on the right side of the bed.
Abundance 15-ml (Bonus Essential Rewards 190 PV tier)
Bountiful is a word that comes to mind during the holidays. Whether it's the meals, or the warm feelings of being with friends and family, there is an abundance of goodness everywhere you look. Abundance essential oil blend is welcoming, encouraging, and uplifting. Use it while you prepare your house for the festivities or diffuse it in the car to help you stay positive while checking off items on your holiday to-do list. P.S. Did I mention this is the BIG 15-ml bottle? Well, it is. That's two 15-ml bottles in November's promos and they're BOTH blends that people absolutely love! That's something to celebrate! 
Trim away your to-dos. While bustling around on holiday errands, diffuse this seasonally scented blend in your Car Vent Diffuser.

Welcome friends and family. Prepare guest bedrooms and bathrooms with the oh-so-warm aroma of Orange and Clove by adding 8 drops of Abundance to a water-filled spray bottle.
Free Shipping (100 PV tier)
All orders over 100 PV STILL qualify you for free shipping if you want to go that route! Shop or Essential Rewards orders can qualify for this free shipping. Save a little money. Fill your order. Spend the money you save on a little something for yourself. 😉 
SO many good things, but that Peace & Calming 15-ml has me drooling. How about that diffuser ornament too? I will always love the work the Young Living Foundation does and how they support people in need all over the world. If you need help finding ways to hit those PV amounts but aren't sure what to put in your orders? Let me know. I've got tons of ideas for this time of year!
Speaking of this time of year, we're zooming into the holiday season, and since Holiday Launch from Young Living got rescheduled for this month (all the details will be coming soon), there will be a lot of great gift ideas. Just as a reminder or if you didn't get to see them the day of the original launch, here's what will be available:
Snowy the Owl Diffuser Set (exclusive diffuser!)
Olive Wood Giving Grove Collection (with Evergreen Essence!)
Northern Lights Farm: The Collection (exclusive wood oils)
Haven Diffuser Collection (a new diffuser + Vanilla and Christmas Spirit)
Vanilla (a new oil from YL)
Drop of Joy Diffuser Earrings Collection (diffuser earrings + Joy!)
Holiday Starter Bundle (a limited time holiday Premium Starter Kit available for new members or existing)
Thieves Laundry Caddy Collection (Thieves Laundry Soap + accessories)
Purification in Progress Collection (more laundry things + Purification)
Nepalese Wool Dryer Balls Collection (wool dryer balls + carrying bag + Lavender and Bergamot)
CBD Beauty Boost (new CBD product!)
Dream Catcher Bath Bomb 3-Pack (exclusive relaxing bath bombs)
Mindfulness Mug Collection (a mug + Spiced Turmeric Herbal Tea and Tangerine Vitality)
Polar Pals Thieves Collection (3-pack of Thieves Hand Sanitizer + 3 Polar Pal carriers)
Holiday Kisses Lip Balm Set (a holiday classic lip balm set)
Very Merry Vanillamint Set (exclusive Vanillamint Body Butter + Vanillamint Pink Himalayan Sea Salt Scrub)
Winter Nights 5-ml (exclusive holiday blend)
Winter Nights Winter Wonderland Collection (the oil + a foaming hand soap + hand lotion)
Holiday Foaming Hand Soap Collection (Christmas Spirit, Thieves, and  Winter Nights Foaming Hand Soaps!)
Individual KidScents Roll-Ons (GeneYus, Owie, SleepyIze, TummyGize, SniffleEase, and KidPower)
Southwest Sterling Silver Necklace (supports the YL Foundation)
Southwest Sterling Silver Diffuser Bracelet (supports the YL Foundation)
Contact me if you want to hear more about any of these, but I'm so excited to fill up my cart with gifts for others and for myself! 😉
I am very thankful for you. I don't think we say that enough to the people in our lives but I mean it. Thank you for being on this journey with me. If you have any questions or need any help, please let me know. I am ready for this to be the best November ever!