Happy November! The holiday season is finally here and we have so much to be thankful for. Especially when it comes to all the amazing things that have happened with Young Living this year and how much they give us. November's promos are no different and will definitely have you feeling thankful, so let's take a look!
Here is the full breakdown of the US November promos:
100 PV
10 Essential Rewards Points*
190 PV
Abundance 5-ml
Joy 5-ml*
Lavender Lip Balm*
10 Essential Rewards Points*
250 PV
Thieves 5-ml
Abundance 5-ml
Joy 5-ml*
Lavender Lip Balm*
10 Essential Rewards Points*
300 PV
Hope 5-ml
Thieves 5-ml
Abundance 5-ml
Joy 5-ml*
Lavender Lip Balm*
10 Essential Rewards Points*
*Remember, in order to get the Essential Rewards Exclusive 10 Essential Rewards Points, Essential Rewards Exclusive Lavender Lip Balm, and the Essential Rewards Exclusive Joy 5-ml, you have to be enrolled in Essential Rewards (ER) and have an order that meets the PV requirements for those items. The extra bonus of meeting these PV amounts with your ER order is that you get even more ER points to spend later!
10 Essential Rewards Points
I love, love, LOVE when they give us ER points. That means we get to choose what we spend it on and when. Plus, this in addition to the points you're already earning on your order! Who else loves more ER points to spend like cash?
Lavender Lip Balm
Cold weather is here and more is coming our way, so this Lavender Lip Balm is going to be a life saver. Not only does it helps chapped lips, but in a pinch you can use it as an ointment when you have other dry, cracked skin from the cold weather. If you haven't used this during fall and winter, you've been missing out, big time.
Joy 5-ml
Along with the colder weather comes gloomier days, and gloomier days affect us all a little bit differently. One thing that can help all of us keep our moods above the grumpy and sad lines is Joy. Diffuse it, wear it as a perfume, let your teens use it to help control some of those wild mood swings. Just have it on hand, because at some point, someone in your home will need it.
Abundance 5-ml
Abundance is a pretty straightforward blend as far as its purpose. It's to help you get in the right mindset to encourage and promote more abundance in your life. Shedding negativity and attracting positivity and prosperity. Maybe it will attract a few more gifts during the holidays? 😉 Okay, maybe that's not it, but the rest is true and this is an oil that can help you as you seek abundance in every area of your life.
Thieves 5-ml
You can never have too much Thieves on hand. Maybe you'll want to leave this bottle by your diffuser, or in your car, or at the office. Pick a spot and dedicate this free bottle for one use, because we all have other bottles of Thieves we're using elsewhere, so why not get another?
Hope 5-ml
Much like Joy, Hope is a blend that is really beneficial for helping all of us not only survive but thrive during the times when moods are more affected by the season. Hope can help keep your emotions grounded, uplift your spirits, and help keep your mind clear and open to the possibilities of hope for the present and future. This is such an amazing oil and you are going to fall in love with it.
These promos are just what's needed to help keep us thankful for all the great things in our lives. What are you most excited about? Are there any you haven't tried? Let me know, I'd love to talk about it!
That isn't all that's going on with Young Living either. They released their Holiday Catalog last month and there are some AMAZING things in it! It's the perfect way to find some exciting things to help you get your holiday shopping done early. Take a look and let me know if you have any questions or want to learn more about anything in it. Here's a quick announcement that was made when it was released with details on how the ordering works:
"This year is celebrating 25 years of Young Living, so there's some special things in the holiday catalog, including Christmas Spirit Hand Soap (say WHAT?!), a brand new diffuser, a new Savvy Minerals Lip Gloss/Treatment (this and the diffuser are permanent product additions, by the way), SO many fun bundles of classic Holiday Catalog items, new Holiday Catalog items, and some Limited Time Offer products like two different bath bombs, a new shower steamer, and so much more!!
Here's everything you need to know about the products in the Holiday Gift Guide:
*Quick Order: Yes
*Essential Rewards: New permanent products available on ER November 1. Members will not be able to redeem ER points for the purchase of these products, but they will be able to add LTO products to their ER November 1-December 31, subject to availability.
*NFR: No
*Limits: No
*Bundles will be available October 7-December 31, or while supplies last.
*The Sweet Aroma Diffuser and Savvy Minerals Lip Luxe are new permanent products, all other new bundles and products are LTO while supplies last.
*All products will be available while supplies last. Once they are sold out, they will no longer be available with the exception of new permanent products.
*Backorders: No"
Holiday Catalog_2019 Price List_US
As if that wasn't enough, Young Living also has some special BOGO deals for Essential Rewards members! Take a look:
"It's the first-ever Essential Rewards Appreciation BOGO promotion and it is AMAZING!
Here are the deals:
– Add a 15 ml bottle of Longevity to your ER order, get a 15 ml bottle of Eucalyptus Radiata for free!
– Add Super Cal Plus to your ER order, get a 5 ml bottle of Peppermint Vitality for free!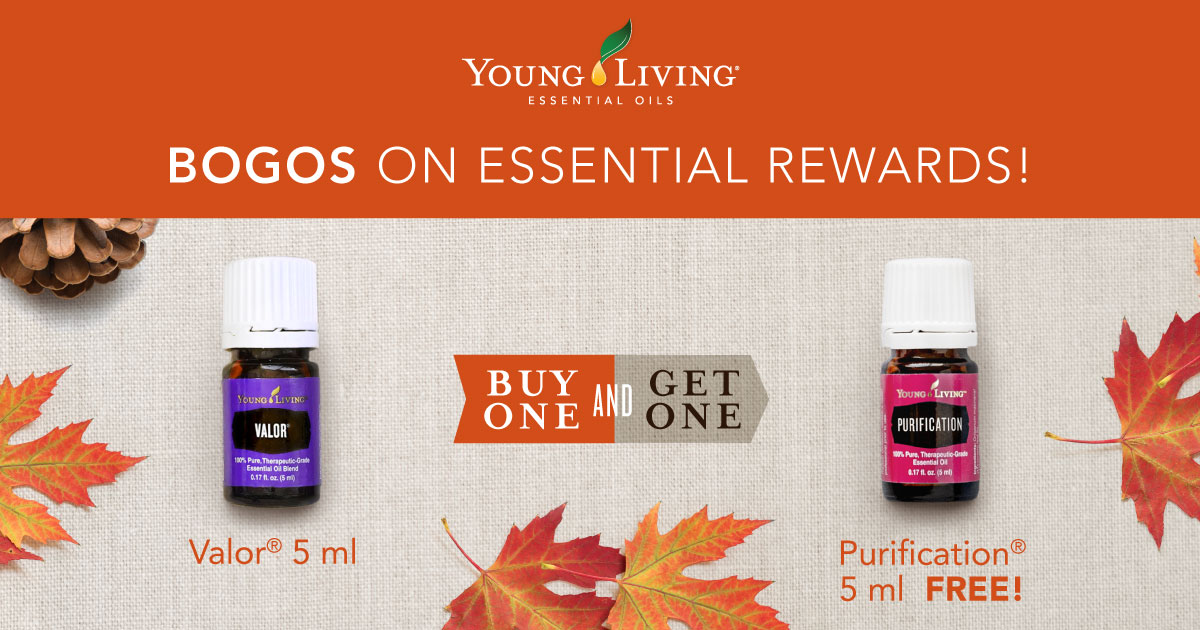 – Add a 5 ml bottle of Valor to your ER order, get a 5 ml bottle of Purification for free!
– Add a 5 ml Thieves Vitality to your ER order, get a 2 oz. Thieves AromaBright Toothpaste for free!
You know what's even better? There's a limit of 2 per item, so you could buy 2 of each and get 2 of their partner items for FREE in your ER order!!
This promo is for US members only.
This deal lasts until Friday, November 15th, at 11:59 p.m., MT, or WHILE SUPPLIES LAST, so process those ER orders early in November!"
If you're not on Essential Rewards yet and you're interested, let's talk about it! It is such a rewarding program and there's zero risk involved. I love it and I'm pretty sure you would too, so just let me know!
I hope that you are as excited for the holiday season as I am, because I love this time of year! Even if you're not, there is still so much to be thankful for, and I wanted to make sure to let you know that I am incredibly thankful for you. If you ever have any questions or need anything from me, please let me know. I hope you have the very best November!