Summer, summer, summertime! Fruity drinks, the breeze from the lake, kids running through sprinklers. It's coming. Fun in the sun for all of us! And since we'll be out and about, active and enjoying the outdoors, June's gift with purchase oils are the perfect companions as we head into summer. Plus, some great products came back in stock over the last month and there's some more exciting ones headed our way this month, but let's talk about June's Gift with Purchase first!
Here is the full breakdown of the US June 2021 Gift With Purchase:
100 PV
Free Shipping
190 PV
Citronella 15-ml
Eucalyptus Globulus 15-ml*
Free shipping
250 PV
Aroma Siez 15-ml
Citronella 15-ml
Eucalyptus Globulus 15-ml*
Free shipping
300 PV
Peace & Calming 15-ml
Aroma Siez 15-ml
Citronella 15-ml
Eucalyptus Globulus 15-ml*
Free shipping
*Remember, in order to get the Essential Rewards Exclusive Eucalyptus Globulus 15-ml, you have to be enrolled in Essential Rewards (ER) and have an order that meets the PV requirements for that item. The extra bonus of meeting all these PV amounts with your ER order is that you get even more ER points to spend later!
Peace & Calming 15-ml (300 PV tier)
A bedtime (or nap time) must have, Peace & Calming is likely well known to you, but there's also the added benefit of adding a drop or two to your nighttime skincare routine! Helps keeps your skin looking and feeling great but also helps you calm down at the end of a day, even if there's been excitement all around. Plus, a 15-ml bottle? Jackpot!
Up your skin game. Add a drop of Peace & Calming to your nightly lotion to pamper your skin after a day in the sun.

Treat your pores. Make a soothing skin spray with 2 ounces of water and 10 drops of Peace & Calming and spritz on skin at night to refresh dry skin.
Aroma Siez 15-ml (250 PV tier)
Hikes. Swimming all day. Sand volleyball. Walking back and forth from inside and outside making sure the kids aren't hurting each other too bad. All of it can work up a sweat or get your muscles feeling some type of way. Aroma Siez is a great blend for bringing a bit of soothing relief and helping you relax after a busy day. 
Enjoy some post-adventure aromatherapy. Combine a few drops of Aroma Siez with V-6 to boost a post-hike massage. Massage therapy + aromatherapy = relaxation time!

Take a sensory journey on the go. Add a few drops of Aroma Siez to a car diffuser for a summer-ready scent between visits to the farmers market and dropping off kids at swim lessons.
Citronella 15-ml (190 PV tier)
We all know the wonders of Citronella, so getting a big bottle for summer never hurts. DIY outdoor sprays, crisp, refreshing diffuser blends. You'll get your money's worth out of this bottle all summer long. Diffuse it with citrus oils for a bright, fresh scent in your home!  
Dive into summertime adventure! Make a DIY outdoor spray blend of Citronella with oils like Rosemary, Tea Tree, Myrtle, Clove, or Lemongrass and spritz it at sporting events or while camping.

Add a twist to skin care. Combine Citronella with sunscreen for a light, bright aroma that will make you even more ready to embrace the warm sunshine!
Eucalyptus Globulus 15-ml (Bonus Essential Rewards 190 PV tier)
Speaking of freshness, Eucalyptus Globulus can help brighten a day in your diffuser or how you use it around the house. Plus, if you need a comforting chest rub to help you relax and rejuvenate, a few drops with a carrier oil and you'll be taking deep breaths and feeling renewed.
Invite the outdoors in. Diffuse this oil for a scent that will remind you of a summer day in the garden, even if you're just doing the laundry. 

Freshen up your space. For a sunshine scent in the kitchen or bathroom, place a few drops on a cotton ball and put it in the bottom of the trash can before replacing the liner.
Free Shipping (100 PV tier)
Vacations, picnics, day trips. Summer can get a bit spendy at times, so why not save a little money on shipping? Any 100PV order, ER or Shop, will give you this option. Just something to think about. 🙂 
Treat yourself. Stock up on summertime favorites and let us cover the cost of your deliveries.

Get easy, peasy, summer-breezy savings. Reach our 100 PV tier and we'll ship your order for free. 
Do you have any big summer plans? I'd love to hear them! I can also help make sure you have everything you need on hand so you don't have to worry about being caught off guard. I know having one less thing to worry about lets me relax and enjoy myself a little better. 
Last month we saw some fan favorites come back in stock, and I love that Young Living continues to get these things back in stock while still holding to their strict Seed to Seal standards! Here are a few things that came back in stock in case you've been waiting for them.
Recent Back in Stocks: 
Essentialzymes-4, Item No. 4645
Life Essentials 1 Kit, Item No. 37049
LavaDerm Cooling Mist, Item No. 3249
Maximum-Strength Acne Treatment, Item No. 23795
Reconnect Collection, Item No. 5340
Sheerlumé, Item No. 4833
FemiGen capsules, Item No. 3206
Lavender Mint Daily Conditioner, Item No. 5192121 (limit 1)
Savvy Minerals Blush in Captivate, Item No. 22848 (Shop Only)
Super C Chewable tablets, Item No. 3251
Copaiba Vanilla Conditioner, Item No. 5195121
CortiStop, Item No. 3275
Into the Future essential oil blend, Item No. 3369
Vanilla oleoresin, Item No. 32741
If you're unfamiliar with any of those but want to know more, send me a note and we'll chat about them. So many good ones in there (Vanilla, CortiStop, Sheerlume…let me stop before I just type out the whole list again). 
Before the end of June, I have a feeling we're going to all have a bunch of new favorites too, because Convention is coming! This year's Virtual International Grand Convention (VIGC) put on by Young Living is going to be a showstopper and they always deliver with the right new products and timely speakers/classes. I highly recommend getting registered so you will have access to these products early and any VIGC specific bundles they might have. Plus, you get access to all of the videos for the main speakers, the classes, and everything they'll have for us. It's going to be pretty great! Plus, check this out:
"There's still time to register for the VIGC!
In spite of the challenges posed by COVID-19, we're excited for the opportunity to reach even more people this year with another innovative Virtual International Grand Convention (VIGC).
In recognition of all the new ground we broke with our unprecedentedly innovative virtual convention last year, Young Living earned a Gold International Business Stevie Award! We're thankful for your feedback that will help us have an even more fun and productive convention June 16–19.
Attendees will have exclusive access to purchase convention-only products, as well as early access to newly launched products. Plus, all attendees who make convention orders will receive a special gift as a heartfelt thank you for your flexibility and resilience during this unusually challenging time.*
The D. Gary Young, Young Living Foundation's annual Run for a Cause 5K will also be virtual this year and will take place on June 19. One hundred percent of your registration fee for our superhero-themed virtual 5K will benefit the Young Living Foundation to assist people around the world. Join us and be a hero for someone in need.
Head to YoungLiving.com/2021convention to register for the VIGC and the Foundation 5K or go to https://younglivingfoundation.org/5k for the Foundation 5K without VIGC registration.
Pricing*
Regular Registration
Now–June 1
$55
*Registration fees include a gift that will be included in your first convention order. You must place an order during convention to receive the gift. Items are subject to availability."
I would love to keep in touch while we all watch this together, especially as we see all the new products roll out and start making our lists! 
Before that though, in preparation for Father's Day, Young Living has a great Father's Day promo! Check this out: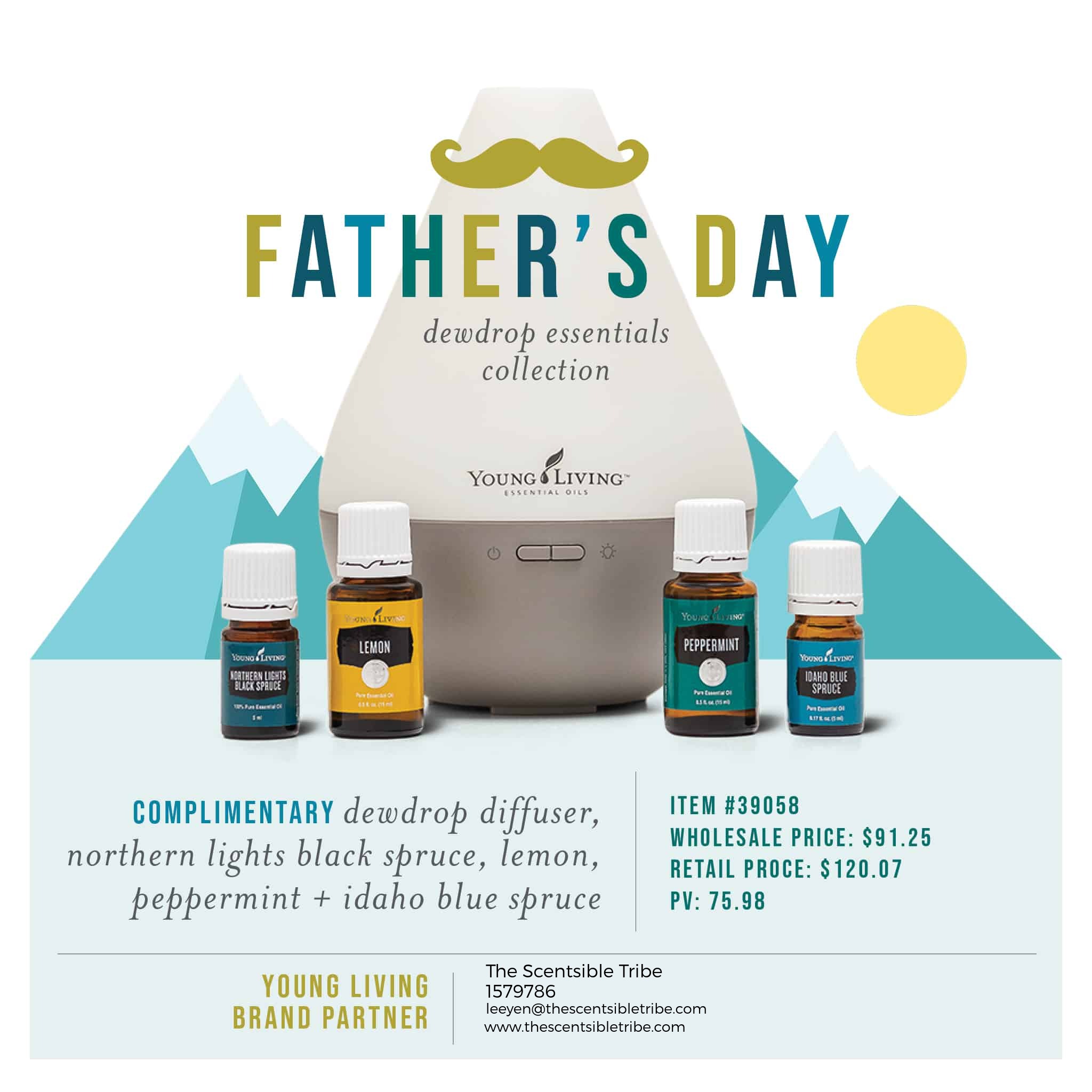 "Protectors give and give and give. From early mornings to late nights, these champions always look out for you. It's time to pay it forward for Father's Day! With the Dewdrop Essentials Collection, you can snag your guy a Dewdrop Diffuser. Best part? It's complimentary, because who doesn't love free stuff? They will also receive icy Idaho Blue Spruce, nature-like Northern Lights Black Spruce, peppy Peppermint, and lively Lemon.
This limited-time Father's Day collection is available June 1 at 12 midnight, MT, through June 13 at 11:59 p.m., MT, and is ideal for macho men, refined gentlemen, or anyone, male or female, who adores diffusing essential oils.
Dewdrop Essentials Collection
Show those at-home heroes how much you care with a complimentary diffuser and crisp, cool oils.
Complimentary Dewdrop Diffuser
Infuse the air with earthy, complex, or sharp-scented scents.

Combine Idaho Blue Spruce, Northern Lights Black Spruce, and Peppermint for an outdoor adventure scent or diffuse Lemon to brighten up any room.
Idaho Blue Spruce essential oil*, 5 ml
Use this straight-from-nature aroma as a cologne, perfume, or beard or hair oil.

Diffuse this stalwart scent to make any hideaway homey and smelling great.
Northern Lights Black Spruce essential oil*, 5 ml
Add a few drops to your favorite face cream to boost moisture.

Mix it with your shampoo to bring the sensation of mountain breezes to your morning shower.
Lemon essential oil, 15 ml
Snuff out stinky smells by placing an oil-infused cotton ball in your sock drawer or shoe closet.

Put a few drops on a rag to remove icky messes and sticker residue in a cinch.
Peppermint essential oil, 15 ml
Cool skin after working in the yard by combining a few drops with aloe vera gel.

Blend a drop or two with a small amount of V-6™ and rub it into tired muscles.
Item No.: 39058
Wholesale price: $91.25
Retail price: $120.07
PV: 75.98
Shop/ER: Shop and ER (ER must be processed between June 1−13)**
Limit: No limit
LTO: Yes
Ship to NFR/APO: Not available for NFR or APO; U.S. only.
Order date and time: Offer is valid from June 1 at 12 midnight, MT, to June 13 at 11:59 p.m., MT.
*These items are considered dangerous goods. Shipping restrictions apply.
**If you order this collection on ER and it goes out of stock, it will be removed from your template and could possibly drop you below your PV requirement."
Even if you don't get one for dad, you can always grab one for yourself. You deserve gifts too. 🙂 
I can't wait for summer to get here! Let me know if you have any questions about that or anything else. I am happy to help however I can! Even if you don't have any questions, let me know how you're doing! I hope you have an awesome June and a great start to your summer.