Summer is flying by and I'm not sure how I feel about it. Before we know it the kids will be going back to school, the sun will be replaced with cool autumn cloud cover…okay, maybe I'm okay with that part. Still, we can enjoy all of the rest of summer and live in the present. We know the kids will get every bit of enjoyment before they head back.
Speaking of the kids, at first glance this month's Gift With Purchase might look like it's all for the kids, and don't get me wrong, they'll love it. But, these oils and products can be used by anyone regardless of if they're a kid or an adult. Let's look and talk about how each one can be used! Then we've got some other exciting things that happened at Convention and something just for July!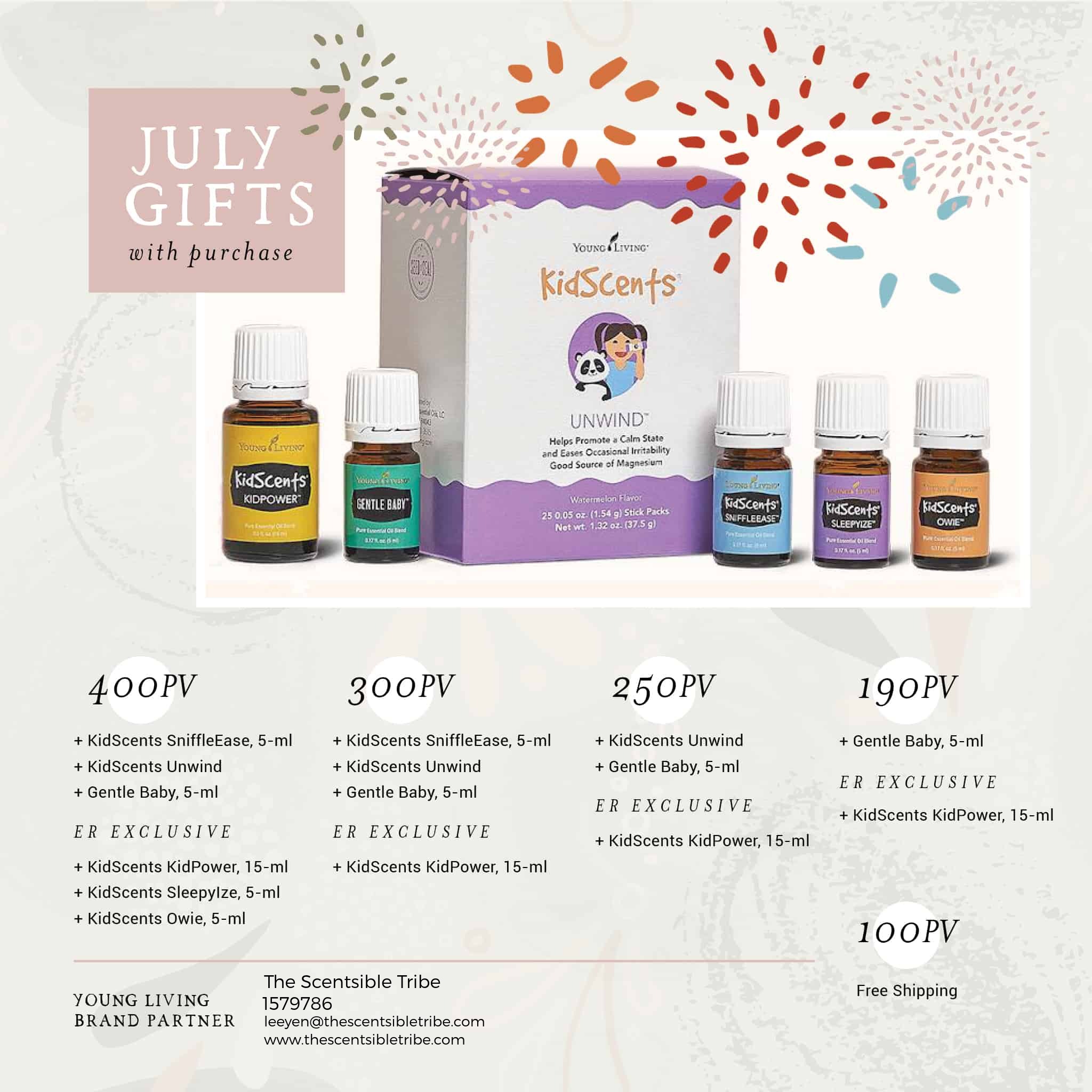 Here is the full breakdown of the US July 2021 Gift With Purchase:
100 PV
Free Shipping
190 PV
Gentle Baby 5-ml
KidScents KidPower 15-ml*
Free shipping
250 PV
KidScents UnWind 25-pack
Gentle Baby 5-ml
KidScents KidPower 15-ml*
Free shipping
300 PV
KidScents SniffleEase 5-ml
KidScents UnWind 25-pack
Gentle Baby 5-ml
KidScents KidPower 15-ml*
Free shipping
400 PV
KidScents SleepyIze 5-ml*
KidScents Owie 5-ml*
KidScents SniffleEase 5-ml
KidScents UnWind 25-pack
Gentle Baby 5-ml
KidScents KidPower 15-ml*
Free shipping
*Remember, in order to get the Essential Rewards Exclusive KidScents Owie 5-ml and KidScents SleepyIze 5-ml and KidScents KidPower 15-ml, you have to be enrolled in Essential Rewards (ER) and have an order that meets the PV requirements for those items. The extra bonus of meeting all these PV amounts with your ER order is that you get even more ER points to spend later!
KidScents SleepyIze 5-ml (Bonus Essential Rewards 400 PV tier)
To be honest, we're all kids at heart, even when it comes to bedtime. Our minds race, our bodies fidget. Unless we've been put through the ringer, sleep can be elusive! The name "SleepyIze" says it all. It's prediluted for kids but it is effective for all. A few drops on the bottom of the feet or in the diffuser and everyone will be ready to doze off. 
Banish bedtime wiggles. Diffuse SleepyIze before bed and let the calming aromas of Lavender and Roman Chamomile surround you while you dream.

Tend and mend muscles. Knead 2─3 drops of the prediluted SleepyIze blend into weary muscles and feet before bed.
KidScents Owie 5-ml (Bonus Essential Rewards 400 PV tier)
Kids are resilient, but everyone gets bumps and bruises and scrapes in life. Kids just get them more often. 🙂 Owie is great for soothing and comforting and helping the body during its natural healing process. It has a very crisp scent too if you want to mix things up and try it out in the diffuser. 
Kiss carelessness goodbye. When the tears start rolling, reach for Owie's naturally soothing blend of essential oils.

Tackle roughhousing. Watch over your wounded by diffusing the scents of Balsam Fir, Tea Tree, and Clove infused in Owie essential oil blend.
KidScents SniffleEase 5-ml (300 PV tier)
This is the perfect blend to comfort kids with the sniffles and keep them focused when surrounded by other kids and their germs (only other kids have germs, right?). This is also a nice relief and chest rub for adults who don't want to mix up a little something with their RC or Raven and a carrier oil. Being prediluted can save us some time and still give us relief and comfort when we need it.
Say no way to sniffles. Save the day this school season and inspire calm breathing by inhaling the scents of SniffleEase.

Reach for relaxation. Breathe the reassuring aromas of SniffleEase essential oil blend to find a moment of calm and comfort.
KidScents UnWind 25-pack (250 PV tier)
You know when people used to tell us to "take a chill pill"? Well, UnWind is the powder version of a chill pill. Let it dissolve and wash away the worries of the days. Let the kids use one and calm all the way down when it's time to get ready for bed. This is the perfect addition to a nighttime routine, and something us adults can use to pump the brakes, mentally speaking.
Ease overstimulation. Seize serenity at the end of a busy day with the supplement superstars included in Unwind.

Whisk away worries. Use a packet of Unwind as part of a relaxing evening routine.
Gentle Baby 5-ml (190 PV tier)
I have a feeling if we did a poll on how much people use Gentle Baby for their kids and how much they use it for themselves, the latter might win. 😉 It is SO good for skin care, for sleep, for mood support, and so much more. Diffuse it. Infuse your nighttime moisturizers with it. Rub it on the bottom of the little ones feet before naptime or bedtime. This is a top 10 oil for so many people and there are a lot of good reasons for that.
Prepare for peaceful sleeps. Find refuge for parents and little darlings by diffusing this combination of Lavender, Roman Chamomile, and other pacifying oils.

Indulge in heavenly hydration. Dilute one drop of Gentle Baby with one drop of carrier oil to achieve the appearance of baby-smooth skin.
KidScents KidPower 15-ml (Bonus Essential Rewards 190 PV tier)
KidValor is a good nickname for KidPower. Confidence, empowerment, overcoming life's day to day struggles. This helps give courage to tackle every day. It also smells amazing in the diffuser and is one we can all enjoy the positive benefits as it fills our home with its delicious aroma.
Empower with positivity. Diffuse KidPower before breakfast each morning to begin the day with confidence and courage.

Inspire success. Apply KidPower on tiny wrists for an uplifting scent to carry them throughout their day.
Free Shipping (100 PV tier)
School starts earlier every year it seems, so start getting your school supplies now and save a little money with free shipping!
Time for cram sessions and carpools. Take the stress out of the season and let us cover the cost of your deliveries.

Score essentials and save. Reach our 100 PV tier and we'll ship your order for free.
The names give all the oils away and what you can use them for, but they are good for all of us! I love being able to use them for all ages. And pre-diluted saves a bunch of time for some of them.
Before we get to the big July special that Young Living is running, I want to make sure you know about the amazing products that were released at Convention. Aside from all of the great information Young Living gave us and the awesome speakers we got to see, they also released some new oils, a supplement, and body care and reformulated shampoos and conditioners! Plus, there's a limited time Thieves product you'll want to get your hands on while it's still here. Check out this list and if you want more information I would love to talk about it with you. I am absolutely in love with these.
CONVENTION 2021 PRODUCTS:
Golden Turmeric (supplement – currently unavailable until the middle of July but you will definitely want to grab this when it's back!)
One Voice oil blend (supports the YL Foundation)
Rise Above oil blend (this year's Convention blend)
Divine Destiny Collection (a trio of new blends that are incredible!)
Lushious Lemon oil blend (that wonderful scent from the Lushious Lemon Foaming Hand Soap is now an oil and it smells just as amazing)
Lushious Lemon Hand Lotion
Charcoal Mask (you have to try this)
Lavender Mint Clarifying Shampoo
Lavender Mint Clarifying Conditioner
Lavender Volume Shampoo
Lavender Volume Conditioner
Copaiba Vanilla Moisturizing Shampoo
Copaiba Vanilla Moisturizing Conditioner
Thieves Kitchen & Bath Scrub (this is a limited time offer, but it's something they might bring back based on interest so get your hands on it now while you can!)
There are also some really great bundles that are all limited time only, so check out the Convention tab in the Virtual Office in the Shop section for those and most of the permanent products will be available to add to your Essential Rewards order! I am so impressed with all of these and I know you will love them.
As if alllll of that wasn't exciting enough, to celebrate Gary Young's birthday, the late founder of Young Living, there are some incredible deals, including his famous "Great Day Protocol" that so many people love, a new sample box to share some favorites with others, and some Buy One Share One deals you're going to want to have in your life. Check this out!
"It's that time of year again! The time where we honor Young Living Founder D. Gary Young's birthday and mission to share essential oils with the world. On July 1, we're offering a brand-new sample box, Gary's Great Day Protocol at a discounted collection price, and three buy-one, gift-one items. Together, we can spread Gary's dream one drop at a time. 
To continue to spread good like Gary did, Young Living will donate 5 percent—up to $300,000—of global sales July 10−11 to the D. Gary Young Global Leadership Fund for Higher Education. 
Promotion details
When: July 1 at 12 midnight, MT, to July 31 at 11:59 p.m., MT, while supplies last
Who: U.S. market only; NFR and Professional Accounts cannot participate. 
Shop/ER: Shop only
Sample Box 
Give brand-new essential oils enthusiasts an opportunity to see that Young Living is more than just oils. Pass out essential oil-infused samples that will benefit their household, get-ready regimen, and personal health. 
Items included: 
5 Cool Azul® Pain-Relief Cream sachets, 2 g each

5 NingXia Red® Singles, 2 oz. each

5 Thieves® Household Cleaner sachets, 1 oz. each

5 Thieves® Waterless Hand Sanitizer sachets, 3 ml each

5 Thieves® Whitening Toothpaste sachets, 1 g each

Lavender Sample Card, 1.8 ml bottle with card
SKU: 39263
Whsl.: $40
PV: 23.35
Retail: $52.63
Limit: No limit
Gary's Great Day Protocol
Incorporate Gary's empowering essential oils routine into your daily life! Start by applying a drop of Valor® to your left wrist, then Harmony™ above your belly button, next Joy™ above your heart, and end by gently brushing White Angelica™ from crown to toe. 
Items included: 
Valor essential oil blend, 5 ml

Harmony essential oil blend, 5 ml

Joy essential oil blend, 5 ml 

White Angelica essential oil blend, 5 ml
SKU: 28884
Whsl.: $90
PV: 90
Retail: $118.42
Limit: No limit
Buy 1, Share 1: Peppermint and Peppermint Vitality™
Order your tried-and-true Peppermint while sharing with a new curious oiler that Young Living Vitality™ oils aren't only for external use. 
Items included:
Buy Peppermint 15 ml, get Peppermint Vitality FREE
SKU: 3614 (Add Peppermint to your cart and Peppermint Vitality will add automatically.)
Whsl.: $23
PV: 23 (PV is not earned on the free item.)
Retail: $30.26
Limit: No limit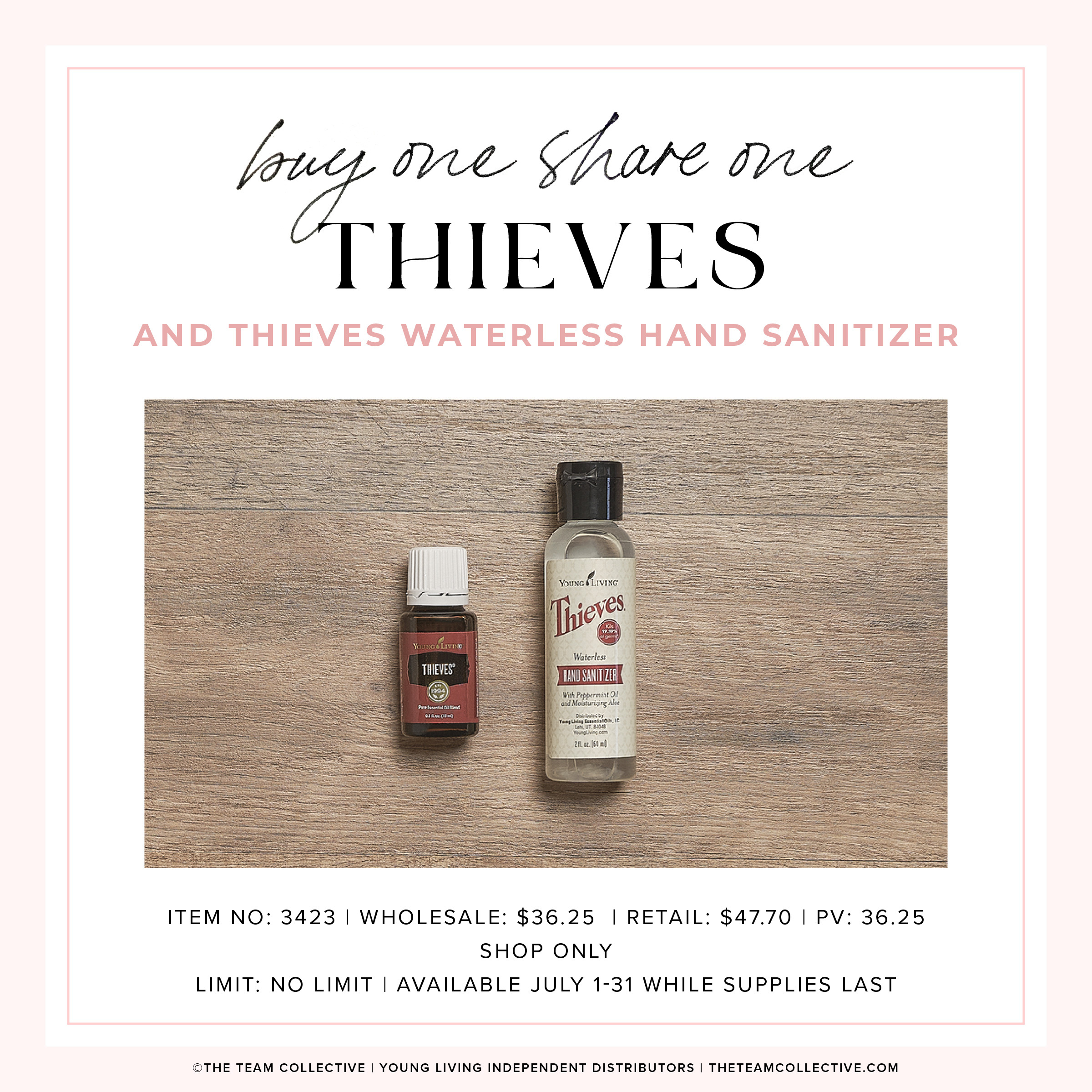 Buy 1, Share 1: Thieves® and Thieves Waterless Hand Sanitizer
Stock up on that at-home-hero, Thieves essential oil blend, as you give your friends and family an on-the-go hand sanitizer. 
Items included: 
Buy Thieves 15 ml, get Thieves Waterless Hand Sanitizer* 2 oz. FREE
SKU: 3423 (Add Thieves to your cart and Thieves Waterless Hand Sanitizer will add automatically.)
Whsl.: $36.25
PV: 36.25 (PV is not earned on the free item.)
Retail: $47.70
Limit: No limit
Note: Bottle color of Thieves Waterless Hand Sanitizer may vary.
Buy 1, Share 1: Dream Catcher™ and Cedarwood
Stash your collection of unique blends with Dream Catcher and then gift a friend an exclusive 5 ml bottle of the balmy, always useful Cedarwood. 
Items included: 
Buy Dream Catcher 5 ml, get Cedarwood 5 ml FREE
SKU: 3361 (Add Dream Catcher to your cart and Cedarwood will add automatically.)
Whsl.: $33.50
PV: 33.50 (PV is not earned on the free item.)
Retail: $44.08
Limit: 1 per account 
*This item is considered a dangerous good. Shipping restrictions apply."
If you've never done Gary's Great Day Protocol, I highly recommend it. Plus, did you see those Buy One Share One deals? Dream Catcher and Cedarwood? That's a magical night's sleep. Plus all the Thieve and all the Peppermint. Can never get enough of those. July is a great month with Young Living and there are so many reasons why!
As always, if you have any questions or if you just want to talk more about any of this or have any specific needs, let me know! I would love to chat and I am always down to talk about oils, which I'm sure you know. I will be happy to help. I hope that you're ready to enjoy all that summer has left for us and I hope you have an amazing July!