Have you ever had a time in your life where you felt like you were on top of the world, when nothing could bring you down and you were having fun consistently?
I am experiencing that in my life right now. I am thriving. I am resilient to the ups and downs of life. I feel vibrant, full of energy and joy. I am living life to the fullest extent of my passions.
The last time I felt this way was in my twenties when I first met my husband, Mark. We fell deeply in love and explored the world together. We made decisions that were unconventional: lived in a boat, quit our intense corporate jobs with no inkling of what was ahead of us, traveled to Africa, drove around Japan, and ended up in his childhood home in Oregon to have our first baby together. We lived life in an "unhurried" way, open to all possibilities without fear.
After a few blissful years, life started to get a little more tiring, a little more scary. Our energy levels were sapped, stress was creeping in and health issues surfaced: shingles, hives, acne, back pain, children getting sick all the time, headaches, canker sores, chronic coughing, athlete's foot, chronic yeast infections. Wow, what a laundry list. And yet so "normal" in many of today's families.
I thought it was normal. I didn't think to question why our health was failing until our children started showing signs of food allergies. Fear of going out lest there wouldn't be an acceptable toilet around. Throwing up in public places after eating out. Unpleasant and definitely not what my carefree spirit signed up for.
Being the researcher that I am, I dived deep into reading about food and its impacts on our bodies (why didn't my pediatrician tell me this?!?). My family and I embarked on a mission to remove inflammatory allergens from our meals – gluten, dairy, pesticides and GMOs. The whole family started healing and feeling much better.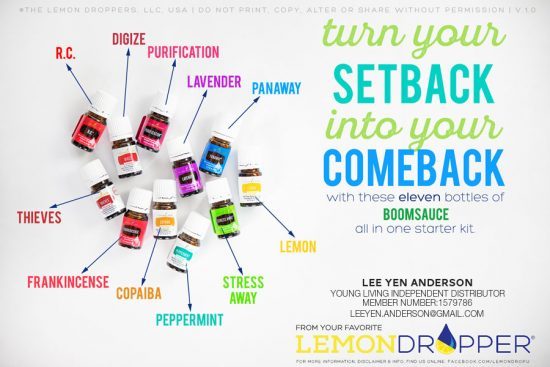 Removal of these allergens from our diet was useful. In fact, it probably helped us feel about 75% better. But I wanted us to feel 100% better. We then committed to a toxin-free house. We took out all the toxic cleaning products from under the kitchen sink, toxic laundry soap, toxic personal care products including soaps, shampoos, makeup and toxic air fresheners including candles.
In addition to the removal of toxins, I realized that releasing the bioaccumulated  toxins within us as well as fortifying the body to better absorb nutrients were just as important.
Young Living Essential Oils have been amazing in their support of our bodies to detoxify as well as to increase absorption of nutrients. We now drink Ningxia Red daily for a concentrated dose of nutrients and antioxidants. We use the whole range of Thieves Household Cleaning products in our house, the Thieves Laundry Soap and the shampoos, body soaps, lotions and skincare products. I use Young Living Living Essential Oils to make me feel good and to stay beautiful internally and externally. You wouldn't believe how many friends tell me that I smell divine!
I mentioned that I am thriving and feel gratitude and joy at where I am in my journey of life. But I am also the whole spectrum of what it means to be human.
I can be happy, sad, exhausted, vibrant, curious, over-scheduled, bold, generous, compassionate, in pain, ailment-free (for a few days) and so much more. I live with food allergies and chronic skin conditions but I manage it through the 3 tools in my life that I use to thrive: nutrition, yoga and essential oils. Everyday is another chance to get back into balance.
In my quest to improve my children's health, I have found my passion of coaching individuals and families to live toxin-free lives. I started with hosting a Nutrition Week at my children's elementary school in 2010 and life has revolved around educating about health since then.  I am now a Certified Nutrition Consultant, a 200-hr certified Yoga Teacher and an Aroma Yoga certified teacher in addition to my master's degree in International Environmental Policy.
I founded the Scentsible Tribe in January, 2014 . The Scentsible Tribe has grown exponentially and now has 10,100 international members, a number that is rising everyday. My amazingly capable team of leaders has everything to do with this growth.
Please visit "Our Team" to find your favorite Scentsible Tribe leader!
In our Tribe, we provide educational resources on healthy living with Young Living Essential Oils Products. We encourage each other to stick with healthy habits.
We #stayhealthytohavefun.
Join us to find out what it means to belong, to thrive, to be resilient and to live your passion.
Read occasional love notes from Lee Yen
here

---
READY TO BECOME A MEMBER?